Clergy & Staff
St. David's is currently searching for a Rector. Rather than have an interim priest, every Sunday St. David's rotates through a group of excellent supply priests.
St. David's currently contracts with a cleaning and lawn cutting services that are located in Brown County. We have hired an administrative assistant who is responsible for office duties and available to the church through email or phone.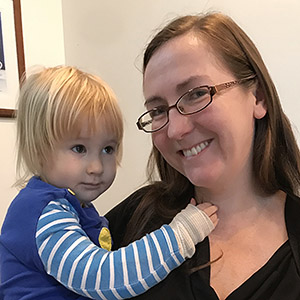 Adrienne Shipley, Organist and Choir Director
Hi, I'm Adrienne! I grew up in the Episcopal church in Princeton, NJ where I sang in the choir and served as an acolyte. I was given the opportunity to play the piano and organ at church on special occasions. I have 16 years experience as a music director, choir director,and organist. I've been with St. David's for a year and absolutely love my job and all the people.
I am currently working on a Doctorate of Music (DM) in harpsichord, organ, and music history at Indiana University in Bloomington. I have both Bachelor and Master of Music degrees from IU. My Bachelor's degree is in piano and harpsichord while my Master's is in harpsichord and jazz piano. I also have 17 years of teaching experience. I teach music and movement classes for children ages 0-5. I teach children ages 3-18 private piano lessons, including several children with autism spectrum disorders. I taught at IU for 5 years as an associate instructor in harpsichord while I was working on my course work for both my master's and doctorate degrees.
I have three children, Shane, Miles, and Diana. They are the absolute lights of my life.
The Vestry
The vestry is the legal representative of the parish with regard to all matters pertaining to its corporate property. The presiding officer of the vestry is the rector. The basic responsibilities of the vestry are to help define and articulate the mission of the congregation; to support the church's mission by word and deed, to select the rector, to ensure effective organization and planning, and to manage resources and finances.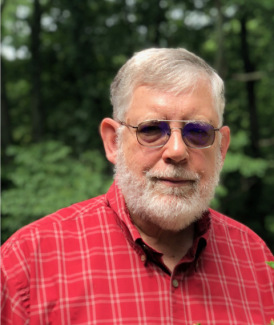 Jim Huber, Senior Warden, Finance
Twenty years ago my wife and I moved from Chicago to Brown County. My life here in Brown County centers around my wife, our 67 acres of woods, and the 3 dogs we have had over the years. Like so many people in Brown County I wear many hats. My wife and I have a guesthouse, I am an adjunct math instructor at Ivy Tech Community College, and I spend a great deal of time at St. David's. I was a Registered Professional Engineer in Illinois and was Technical Director of a laboratory equipment manufacture. I also have a MBA and a second Masters in Financial Markets and Trading.
Over the years at St. David's, I have been in the choir and served on many committees. I have been Senior Warden 4 times and chaired the Capital Campaign Committee. I am the most proud of singing in the Faure Requiem, worshiping the first time in our expanded building, paying off the mortgage one year early, and welcoming a new priest.
I still have a life back in Chicago that is anchored by my three sons, 5 grandchildren, and my sister and her family. With birthdays, and other holidays I get up to Chicago frequently.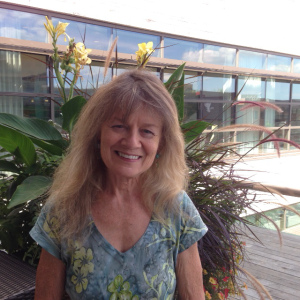 Jan Holloway, Junior Warden, Communication
I grew up in Massachusetts and England, and have a BA in English Lit and Sociology from Colby College in Maine. After a few years as a background writer/editor at the New York Times, I came to Indiana University Bloomington to do a PhD in America Lit (unfinished), and loved teaching. After writing and editing at IU, I'm now a freelance editor. A highlight is working with self-published authors. I'm a rock hound (geodes), and make jewelry from semi-precious gemstones and sterling. Though I've explored many churches, denominations, and spiritual practices, I never expected to join a church. But in 2009 I found St. David's, a diverse community of welcoming, loving, talented people, who share a great sense of humor. This is home.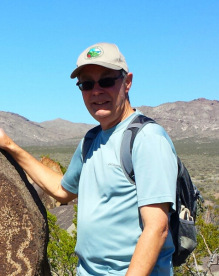 Mike Day, Christian Formation
I began attending Saint David's Episcopal Church in Bean Blossom in about 2001, when I moved to Brown County. My wife and I were looking for a church that we could both embrace and feel accepted in. We found that in Saint David's: a caring, giving, tolerant and spiritual church.
This is the second time that I have served on the church vestry. Each time my reason for serving has been a desire to see Saint David's succeed in its mission, to reflect and be the gospel of Christ. The work of the church is an unending but joyful experience.
Jan Benham, Pastoral Care
I appreciated the years of practicing medicine but it was a stern taskmaster. So when I retired fourteen years ago, I could indulge in the luxury of time to enjoy other interests. Gardening, long walks in my Brown County farm's woods, reading, writing, music, "grandmothering"; each of these opened my eyes to subtle layers of life that are rich as the humus on the woods' floor.
As much as I love the quiet pursuits, St David's provides a community of people also on a spiritual journey, with whom I can talk of ideas and hopes and dreams (and yes, fears and doubts as well.) I am grateful for this balance and the ever beckoning Eternal that lends such zest to this journey.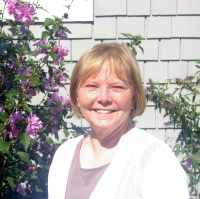 Sharon Kitchens, Parish Life
I began attending Saint David's Episcopal Church in Bean Blossom in 2010, a short while after we bought a summer place on nearby Lake Lemon. We had heard about St. David's being a very outreach-ministry oriented place and immediately became won over by the friendliness and immediate acceptance of the congregation.
After retiring in December 2015, St. David's provided me the opportunity to become an active volunteer not only in its church community but by becoming involved in many of its outreach ministries.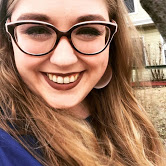 Madeline Webster, Evangelism
My name is Madeline Webster, and I am 25 years-old. I've had a long love affair with the Episcopal faith that began in a tiny church in West Terre Haute and carried me to attend and work at Waycross, our diocesan summer camp, for twelve years. I've only been a member of St. David's for two years, but I jumped in with both feet. I've been a member of the choir, the Outreach Committee, the Vestry, heading up Evangelism, and now I am on the Search Committee. I am committed to this community that has done so much for me.
On the weekdays, I'm an employment consultant for a local non-profit that serves individuals with disabilities. I run a program through the schools that teaches high schoolers employment skills, as well as how to live as happy, fulfilled, and self-directed adults. I live in a big, yellow house in downtown Bloomington with 20 other people! Some Sundays I bring housemates along to worship with me. The community here has always made my friends feel welcome.
Ralph Linscott, Treasurer
A native of New Hampshire I moved to the Midwest as an electrical engineer and, through transfers and job changes, found my way to live in Nashville where, with my wife Maggie, I retired some 10 years ago. I've been serving in many roles almost continuously since becoming a member of St. David's in 2003 including vestry, search committee and capital campaign.
About 4 years ago as our treasurer stepped down to be able to travel more I thought "I know some about math so I'll volunteer" and have been the treasurer ever since. This has been a learning process for me but St. David's is a very supportive community and with much help and patience I am able to serve the congregation in this way.
In retirement and without the demands of the automotive industry I have more time to enjoy hiking, woodworking, and traveling the country in a small camping trailer. I also make a mean cream puff.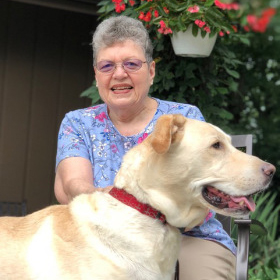 Judy Huber, Clerk
A native of Pennsylvania, Judy taught English and Spanish for some 35 years in PA and IL high schools and community college at Ivy Tech in Bloomington, Indiana. Her M. Ed. Is from Temple University in Philadelphia and she has several advanced programs to her credit including administrative certification for Supervision and Instruction in Pennsylvania.
Her hobbies are movies, her Labrador Retriever, Gunny Lee, her cat Barnabas, reading, and volunteering at the Humane Society in Nashville. She was raised in the Lutheran Church but has been a member of St. David's Episcopal Church in Bean Blossom for some twenty years where she served on several committees including a former search committee.