Welcome to St. David's!
And thank you for your interest in our small-in-size but big-in-heart parish! Nestled in the rolling hills of beautiful Brown County, Indiana and only 20 miles from the college town of Bloomington, is a beautiful country church awaiting a part time rector to join us in writing the next chapter of our story. We hope to work collaboratively with our new rector to discern together what God is calling us to do, building upon all we have learned as a community.
We are a spiritually diverse parish–that is rich with agape love, unconditional acceptance for all, and an outreach orientation. We're an active community that enjoys spending time together whether in worship, in planning for events, in caring for St. David's, or in our monthly euchre games. We laugh a lot. St. David's is financially sound, has no debt, and has active laity who both lead and participate in making our parish vibrant and engaged. We approach any challenges with heart, commitment, and trust.
St. David's worships with Episcopal liturgy and our small but mighty choir have drawn new members with beautiful, spirit-filled music. Our members enjoy the challenge and stimulation of engaging discussions, special worship opportunities, and are committed to continuing the development of our leadership. Our parish has done a great deal of healing through healthy dialogue. We work through our disagreements for the good of the parish, and we are excited to discover what God has in store for our community of brothers and sisters in Christ. We look forward to a spiritual leader who will be captivated by the spirit of St. David's and lead our congregation  forward with joy and a vision to bring us nearer to God.
Information for Applicants
Type of commitment to St. David's: Half-time including Sunday worship
Does this commitment pay? Yes. Financial details in the OTM Portfolio
Application Process: Please contact Kristin Uffelman White, Canon to the Ordinary for Congregational Development and Leadership, email white@indydio.org or call (317) 926-5454 for information or to submit an application.
Application Deadline: January 15, 2019
Link to the job posting or application: www.otmportfolio.org
Websites: St. David's: www.stdavidsbb.org  Diocese of Indianapolis: www.indydio.org
Narrative Questions for Profile

       Challenges and Goals  2018-2019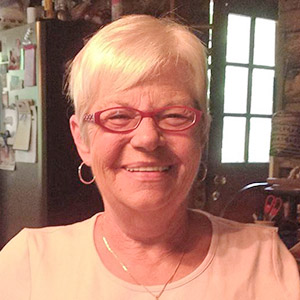 Joan Amati
I have attended St.David's for 23 years and have been involved in many different aspects of the church community. I have participated on the local, state and provincial levels. I have been a member of  Vestry, several search committees, pastoral care, past member of Commission on Ministry and current member of  Provence V Executive Board.
I am a retired nurse and have always had a calling to help others, both personally and professionally, of all walks of life. My mantra is "Damn near survived everything". I continue to volunteer and engage with our Diocesan youth, by volunteering at Waycross for youth events. I recently participated in the Washington DC rally to stop gun violence, as a chaperone.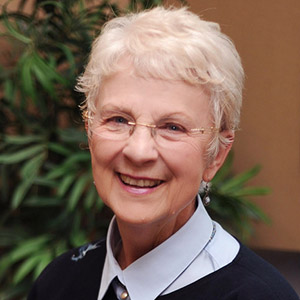 Jan Benham
I appreciated the years of practicing medicine but it was a stern taskmaster. So when I retired fourteen years ago, I could indulge in the luxury of time to enjoy other interests. Gardening, long walks in my Brown County farm's woods, reading, writing, music, "grandmothering"; each of these opened my eyes to subtle layers of life that are rich as the humus on the woods' floor.
As much as I love the quiet pursuits, St David's provides a community of people also on a spiritual journey, with whom I can talk of ideas and hopes and dreams (and yes, fears and doubts as well.) I am grateful for this balance and the ever beckoning Eternal that lends such zest to this journey.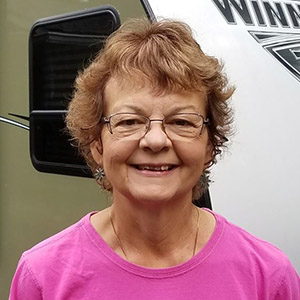 Maggie Linscott
I have been a part of the St. David's family for the past 15 years. After a career as a registered nurse I retired and started working for Love Chapel, a nonprofit in Columbus, IN, as a financial aid counselor. After moving to Brown County with my husband of 46 years I became involved in the St. Vincent DePaul food pantry, volunteering two mornings a week.
In addition to assisting others I enjoy swimming, reading, knitting and, especially, traveling and camping throughout the country with my husband in our travel trailer.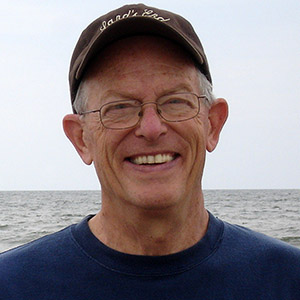 Gene Niednagel
Donna and I became members of St. David's when we moved to Brown County in 1988 to direct and work at Waycross Camp and Conference Center. I've had the privilege of serving on the vestry, being senior warden, working with the finance committee on budgets and capital campaigns, helping with outreach and with creating the St. David's Chapel Garden. I also volunteer with the Brown County Lions Club.
Besides being director of Waycross, I've taught in high school, run a furniture store and a fast food restaurant, and served in the Bishop's cabinet. Donna and I have been married 56 years and have three children and four grandchildren. My guiding Bible summary is Romans 8, particularly 38-39; Nothing separates us from the love of God!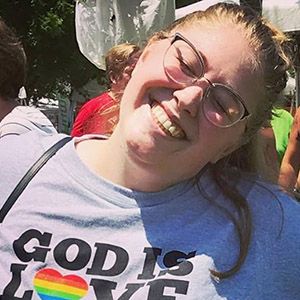 Madeline Webster
I've had a long love affair with the Episcopal faith that began in a tiny church in West Terre Haute and carried me to attend and work at Waycross, our diocesan summer camp, for twelve years. I've only been a member of St. David's for two years, but I jumped in with both feet. I've been a member of the choir, the Outreach Committee, the Vestry, heading up Evangelism, and now the Search Committee. I am committed to this community that has done so much for me.
On the weekdays, I'm an employment consultant for a local non-profit that serves individuals with disabilities. I run a program through the schools that teaches high schoolers employment skills, as well as how to live as happy, fulfilled, and self-directed adults. I live in a big, yellow house in downtown Bloomington with 20 other people! Some Sundays I bring housemates along to worship with me. The community here has always made my friends feel welcome.